Sky Pilot Poetry
... a beginning collection of favorite poems dedicated to flight

by: Don Poss
© Copyright 1997
Cherokee N6837W: DEROS + 1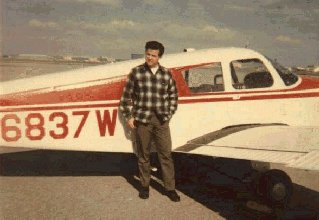 When I DEROSd from Da Nang Vietnam in 1966, my enlistment was up with the Air Force. I bought a '59 Chevy Impala and painted it candy cocoa-brown. That was a promise I kept to myself which I had day-dreamt about in Nam. One day I drove over to Long Beach airport to visit my brother, Ray (an x-squid off the U.S.S. Hornet), who was racking up hours in helicopters (Many of you may have seen Ray in *M*A*S*H*, the movie and T.V. series: Ray was the actual helicopter pilot that flew the chopper).
And there it was: my dream of dreams: A single-engine Cherokee 140, four seater low wing aircraft. I traded my Impala in as a down payment (still saving for an F-4 Phantom with home-defense bomb-racks) and soon accumulated over 200 hours toward a Commercial Pilot's license (which I never achieved--I got married instead: 30 years this November 22, 1997!). [PS: 48 in 2015 :)]
So, while in the Air Force, I flew around the world three times (as a passenger) I did develop a love of aircraft and flying which blossomed only when I soloed above the clouds for the first time. Since then, I've flown around the world twice more--again, as a passenger, but when I gape out a window, I remember Cherokee N6837 Whiskey.
Sky Pilot Poetry