James S. Benge was home when I called and he mentioned my father's name before I did.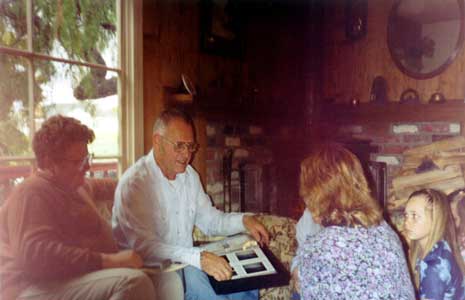 He slept in the same hooch and told me his memories of my dad, and the shower they had rigged. He told about the pictures my Dad had of us, and how he always used to talk about his oriental wife. He helped pack up my Dad's things to be sent to us after he died. He remembered things my father said and it was comforting to hear those things.
Dutch Van tassel was not home so I left a message on his machine. When he called I was amazed at what he told me. I felt guilty for bringing up the pain the past had caused him. He sounded so nice ... I could tell he felt helpless cause he didn't know what to do, and finally he opened his heart and his mind and told me the story of my father's death. He told of the dark, and the ammo smoldering on the ground, the explosion, the screaming, and the chaos. We were both crying when he finished. Then he said, "It should have been me ... It should have been me. It was my third tour . . . your Dad had only been there for a few weeks." I tried to comfort him the best that I could. We cried together and I knew that this was the missing link. He had kept the memorial from Vietnam and sent it to me with a Vietnam Era Seabee Newsletter that showed that he had paid my fathers dues. He told me that he goes to The Wall on Memorial Day and Veterans Day, and he had a rubbing of my Dad's name. I don't know why, but I had never even thought of anyone but our family mourning our Father. I made reservations for Memorial Weekend that day. My mother and brother decided to go. I was very nervous waiting for that day to arrive. I wasn't sure what I expected and started having doubts about what I had arranged. Was this too hard for him ... ? What would we say to each other? Finally the day arrived and I started my trip to ....
The Wall
The Wall was more than I ever could have imagined. It touched my soul ... it broke my heart ... it overwhelmed my mind ... it started to heal the wound that Vietnam did to me when I was 12, thirty years ago. I was amazed at how big it was. I tried twice to walk down shortly after I arrived in D.C. It was about 6:30 in the morning and there were very few people there. I stopped about 30 feet from the beginning, and I felt a hand on my elbow
... it was some Vietnam Vets that had noticed I was having a hard time. They offered to walk me down when I was ready. I was afraid to go. They told me it was okay to be afraid and to take my time.
We walked together and each step brought up feelings as I looked at mementos, and stories left at The Wall. When I finally came to panel 20W and found my Dad's name I sobbed uncontrollably and felt emotion that I thought you only felt at funerals. The Vietnam Vets were at my side ... never leaving me alone. I will never forget them. When I turned around tears were streaming down their faces.