You need to upgrade your Flash Player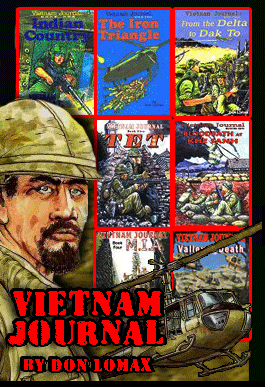 VIETNAM JOURNAL

, the comic, was introduced by Apple Comics in 1987. Written and drawn by Vietnam Veteran Don Lomax it was quickly acclaimed the most hard-hitting and brutally honest depiction of the Vietnam conflict in comics bar none.

VIETNAM JOURNAL

has progressed from a black and white comic, to graphic novel collections by Apple and IBooks, to a color strip in Gallery Magazine and, like the Vietnam War, it drags on, seemingly, with a life of it's own. Now a new incarnation; the web comic. The story follows Scott Neithammer, a freelance reporter the troops have nicknamed "Journal" with his obsession to report the war from the "grunt's" point of view and to hell with the consequences.

Don intends to continue the comic series free of charge to his loyal fans. New pages will be posted regularly for you to view or download. There will be no membership or registration fees. In other words, you may enjoy the VIETNAM JOURNAL CONTINUUM absolutely free of charge.


VIETNAM JOURNAL Graphic Novels now available include Book #1 "Indian Country", Book #2 "The Iron Triangle", Book #3 "From the Delta to Dak To". Book #4 "MIA" finishes up the original 16 issue series of VIETNAM JOURNAL. Book #5, collects the "Tet '68" series and Book #6 features the "Khe Sanh" siege with a bonus feature, "High Shining Brass" the complete series.

* A couple of changes in the scheduling...
Book #7 includes the "Valley of Death" series and the entire series of "Hamburger Hill" that originally appeared for 4 years in Gallery Magazine.

Book #8 will be the complete six chapter series now being posted here, "BRAIN DEAD HORROR" plus a couple of surprises.

TRANSFUZION and Don expect to continue to tell the stories of the grunts on the ground during the Vietnam Conflict... and tell it like it was for future generations. But, above all, thank you all for your loyalty and indulgence of an old Vet.





The following pages are that Continuum.  We will leave each posting of five pages up for two weeks then replace those pages with five new pages.  If,  through the course of time you miss any of the postings or wish to purchase the entire story in Graphic Novel form you may click on the ORDER NOW button and  do so as the books become available.

Click Below


For the latest episode of what will become graphic novel #8,


"VIETNAM JOURNAL--BRAIN DEAD HORROR... The first chapter "63 Charlie"




Atten--HUT!!

HistoryNet.com is featuring an interview with Don Lomax which gives a rare in-depth look into Vietnam Journal and its creator. Click the HISTORY NET ICON and take a look. It is an excellent opportunity to follow the rocky road of events that brought Don's project over an excess of two decades from its birth in 1987 to the present. At ease.


UNDYING THANKS!

I have had an enormous amount of help, encouragement, and praise (much undeserved) over the years without which the continuation of

VIETNAM JOURNAL

would have been impossible. The list of individuals who were instrumental is long and varied including family members, my precious wife, and influential people in the comic business. At the top of the list is Gary Reed at TRANSFUSION. Also, those in the military presently and those retired including Vietnam Veterans without whom this endeavor would have no reason to exist. Hopefully we can all learn from our mistakes. To the younger members of my readership to whom the Vietnam War is just a hiccup in their history books... George Bernard Shaw wrote; "We learn from history that we learn nothing from history." Personally I prefer Maya Angelou's more optimistic outlook; "History, despite its wrenching pain, cannot be unlived, but if faced with courage need not be lived again." Maybe.

A very special thanks to John A. Sedlacik of Landing, N.J, U.S.Army retired, who has been in the past, and continues to be an inspiration and an never ending source of info on the war and the 173rd Airborne Brigade, The Sky Soldiers. AIRBORNE!!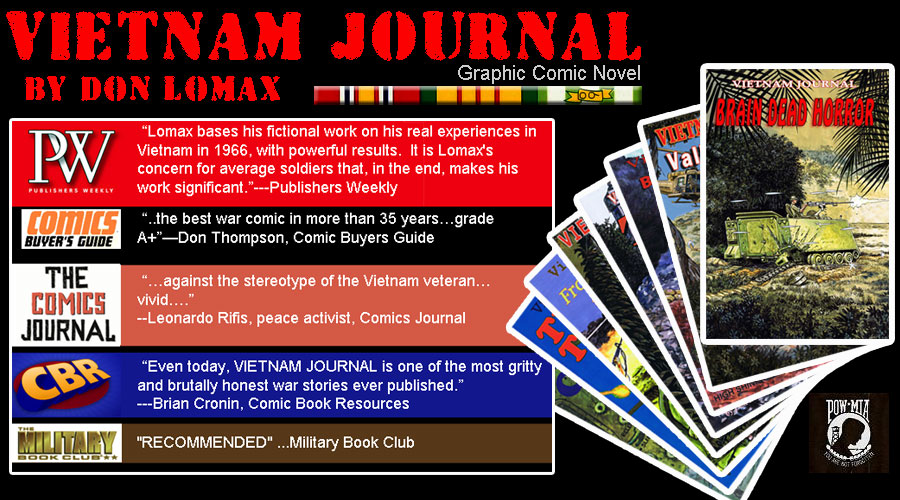 SOME LINKS OF INTEREST;

229th ABn VN




Click to listen to God's Own Lunatics - Vietnam's UH-1 Huey Pilots taken from a talk by Joe Galloway given at a VHPA Memorial Service at The Wall during the VHPA convention in DC.
Reproduced with the permission of Joe Galloway






Click to Report a Broken Link or Photo
© 1995-2018, by Vietnam Journal, The Comic, Vietnam Veteran Don Lomax and War-Stories.com.
All Rights and Contents Protected, and Materials Reserved.