In Baltimore on business, I planned a whirlwind tour of the monuments ... more specifically, the monument. As a Vietnam veteran, I wanted to see the infamous Wall, and include the Korean Memorial, Lincoln's Memorial, Washington's, and Arlington.
One of my earliest memories is my family saying Grace, and my parents having us four boys always pray the Lord to bring our boys home safe from Korea. I wanted to see what my childhood prayers were about.
Lincoln's Memorial dominates the park's entrance. Suddenly, the crowd parts and I see the attraction is the Korean Memorial. I made my way quietly toward it, not knowing what to expect. It was cold to this California boy--in the high 30s and 40s, and the weather predicting snow soon. That seemed appropriate for the larger than life size stainless steel squad of soldiers, frozen in time and mission.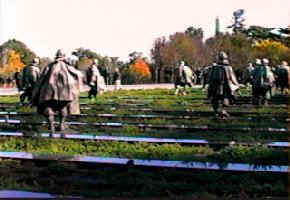 The Squad is The Memorial. When entering the memorial area, I approach the squad of men---Americans---from behind, as if catching up to them.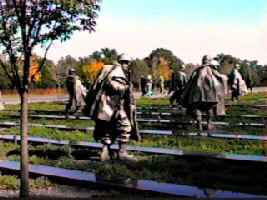 The last man has turned, at the ready, looking back as if to check me out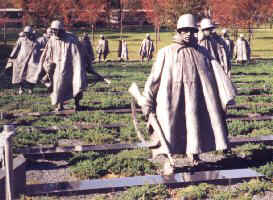 I walk slowly through the squad, pausing like a sergeant to check how each man is doing. Their expressions are bone weary: Cold. Hungry. Exhausted. Timeless. The expressions of all soldiers through all time.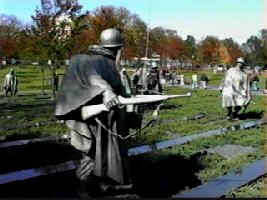 I catch up to the pointman. His expression is all the above, but he is alert... and I can see that he feels the responsibility of leading his friends.
An old - timer (Korean War Vet?) squints at the pointman, as if trying to recognize him.
The Korean Wall: Smooth black stone polished to near-mirror, reflects the images of the nineteen men squad, and memorial visitors, placing all who gaze into the black amongst the armed squad.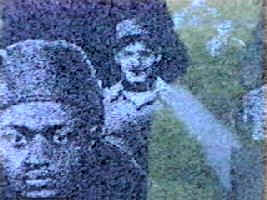 On closer inspection of the black granite wall, I could see etched images of men and equipment. Someone remarks that the images, picture-like, are from over 2,400 photos that families had sent in that were acid-etched into the stone. Could be.
The etched lifelike effect is startling. Smiling faces cannot mask the same exhaustion portrayed by the paused squad.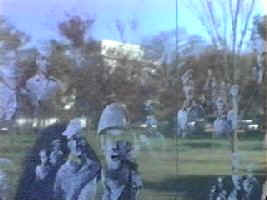 I take another photo, and turn to face a man staring at me. His eyes fix on mine asking the unspoken question: Was he there? He turns without nodding a recognition--he wasn't there--and moves into the crowd.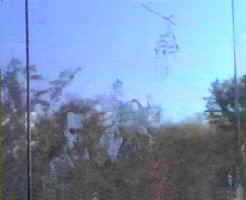 I study the faces within the Wall:
Scenes of combat ...
a ghost-like helicopter fluttering along ...
. . . men moving in formation.

... a lone face staring hauntingly.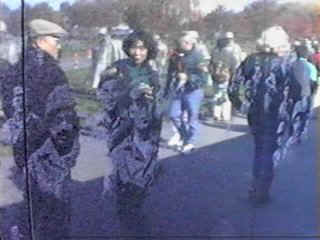 A Korean man and woman stand behind me, and they too are a part of the Wall ... and a part of the squad outside. She stares deeply at the men within--staring at her--and when I turn and catch her eye it is as if I have glimpsed the essence of past grief, and I am ashamed for invading her privacy. I glance quickly away from her misty eyes, but cannot turn from the couples touching an etched faces, and clinging to one another. Did they lose a son or loved one? I take a deep breath of crisp air to ease the first of many tugs of emotion this day.
A group of Koreans (on tour?) pass by and I overheard one to remark that she could not believe anyone could do such a thing for her country. Accented English. Fluent gratitude. And I remember that her sentiments expressed the meaning of a phrase etched in granite at the foot of the pointman: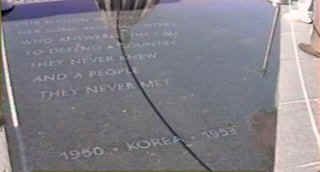 "Our nation honors her sons and daughters who answered their country's call to defend a country they did not know and a people they had never met."
An aging veteran with a cane leans over the quotation and pears into the polished stone, perhaps searching his reflection for hints of past youth.
The Remembrance Pool, a reflecting pond, is just that: reflecting images of a polaroid blue sky, burnt amber leafs, forgotten youth, aging-grandfatherly white-haired soldiers ... and forever memories.
It is difficult to tell where nature's bright colors of Fall's foliage, picture-like in reflection, end ... until the black water ripples from a crisp autumn breeze.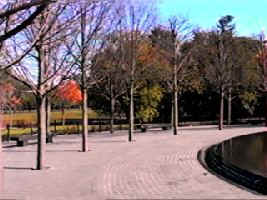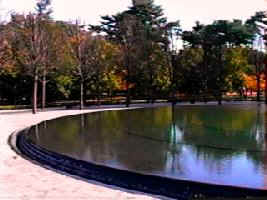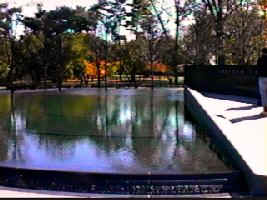 The water flows circular, mirror-like and rippled with memories, and embraces the Korean Wall which rises out of its midst like the bow of a Destroyer. Black waters. Smooth. Cold. Compelling.
As the granite Wall rises gently from the dark fluid, I notice the polished stone's surface suddenly screams a stand-alone truth: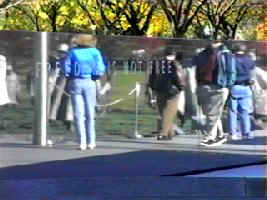 Freedom Is Not Free ...
Simple in message.
Alone in truth.
Profound ...
. . . and I fear, a lesson yet to be discovered by many of my countrymen.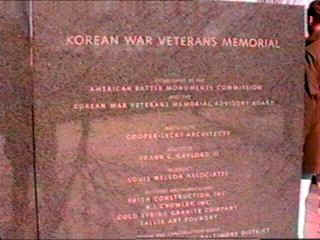 A granite panel, near the statues, names twenty-two United Nations' countries that gave support or sent soldiers to South Korea.
Granite curbs of Bronze stones are etched with razor words and harsh numbers: Dead. Missing. Captured. Wounded. The sacrifice is astounding. The inscriptions speak volumes as to courage and carnage ... and stand without need of comment, nor are there words to do so....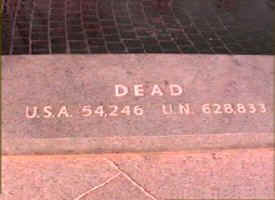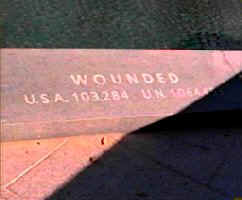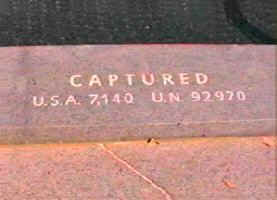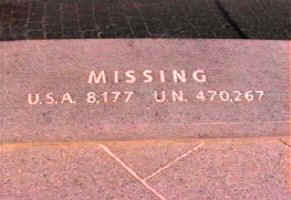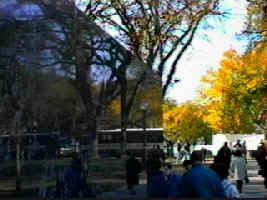 And it is time to move on. My Wall. My war ... past and present ... calls me to Autumn's Wall. But I pause for one last lingering moment, reconsider the carved words of wisdom: Our nation honors her sons and daughters who answered their country's call to defend a country they did not know and a people they had never met ....
A fitting tribute for Korean War Veterans---this Wall without names---of etched images of past turmoil and anguished faces---themselves, novels of emotions laid bare.
I resolve that the Korean War veterans' sacrifices shall never be forgotten in my heart. I yield to the beckoning Wall ... with a parting prayer: Lord, thank you for bringing our boys home ... and may we always honor the memories of those who fell in battle ... and those who were left alone.
75th Air Police,
"To Serve and Protect", 1952-1955, Texas- Korea,
Detachments: 543rd Ammo, 547th Ammo
Korean War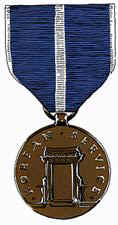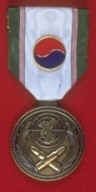 © War-Stories.com 1995-2018. All Rights Reserved.