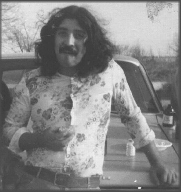 Jack Understood - When I returned to my My Village of San Antonio in 1968, it didn't take too long before the village became the World. I soon fell into the grove, let my hair grow and could care less about what I had just come back from (see photo, left: pretty, ain't I). Tet was in full swing---but who cared? I was back in the world again.
For about 20 years I got away with it. No bad memories, no feeling of loss or nothing to remind me of Vietnam and then one day, there is was---a Huey flying overhead and all of a sudden I could feel the heat, smell the smells and hear the noises of 20 years past. After this, it became like a virus, without warning, a sound, smell or something that someone would say would send me back into those misty memories of 20 years past.
I needed help, but no one understood, especially since I, myself, didn't understand. This is when I ran into a friend named Jack. Jack understood. When we were together I was able to release my emotions. It didn't matter if other people around us didn't understand the sudden mood changes or the emotional outbreaks . . . Jack understood. He was always there for me, and to help me release my emotions and lull me into that deep sleep where those memories of 20 years past couldn't even sneak into.
I could always depend on Jack to be by my side the next day and he would even take time to be with me when I called in sick to work or I decided I needed some time-off from my home life. I could always count on him to lure me into those deep restful sleeps that I craved, no matter where I was ... Jack understood.
Jack was by my side for many years until he started getting between me and my family. He had also talked me into missing work too many times, and I needed money to keep Jack around. He tried to get me to ignore the pleas from my family and friends to stay away from him, but his soothing ways made me keep him around because . . . Jack understood.
One day when Jack hadn't come to visit, I read that some Vietnam veterans were actually walking from Dallas to San Antonio and I began to track their trip as they neared San Antonio. I couldn't believe that these Vietvets were actually getting support for their cause, The Last Patrol, and I planned to meet them before they came into San Antonio. This is when Jack came back to visit and we drove out to meet them but didn't join them because Jack wouldn't have been allowed to walk with them. I just kept driving back and forth past them, and everytime I passed I saw them carrying the American and POW flags proudly in front of the formation. I somehow envied the feeling and yearned to walk and carry those flags, but Jack talked me out of it because ... Jack understood.
This group of Vietvets and supporters were scheduled the next day to walk into San Antonio, straight to the Alamo, and then participate in a Veteran's Day Parade. I got the feeling that these guys were family ... they were my brothers and I slipped away from Jack for that evening, put on my long forgotten medals and walked with my brothers to the Alamo the next day. I couldn't believe the togetherness and the instant brotherhood that hundreds of us shared that day. We walked in one of the largest Veteran's Day parades San Antonio had ever seen---and we were all WELCOMED HOME!
Jack kept trying to come back, but the comfort I was getting from him was now coming from my "brothers" that had come together and stayed together. We had suffered in the past and now we could comfort each other in the present and share and belong together.
Jack still comes around occasionally, but only for short visits and I know when to ask him to leave. After growing up in the barrios of San Antonio and making it through the Nam, I had always said that no one had ever kicked my ass, but now when I think about it, Jack Daniels definitely has the privilege of being the only one to have done this. It took me many years, but I finally came to the realization that I was wrong when I said ... Jack Understood!
APVNV Pat(Beanie)Camunes
D/4/31 196th Lt. Inf. Bde.
Tan Ninh 12/66-4/67, Tam Ky 4/67-12/67
"The man takes a drink ...
the drink takes a drink ...
the drink takes a man."
Rev. Claude M. Sailhammer